George Chakiris and his connection to Norwood, Ohio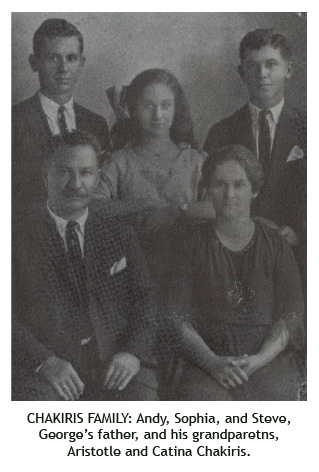 In the early dawn of August 22, 1916 Catina Chakiris and her daughter Sophia, and son Stylianos, arrived in Boston, Massachusetts. They quickly boarded a train for Cincinnati where they would be reunited with Catina's husband Aristotle and other son Anastasios. They were of Greek heritage, but lived in Turkey. They had fled they oppression and tyranny there to rebuild their lives in the golden land of America, "the land of opportunity and freedom from fear."
Excerpts from
ESCAPE to a NEW DAWN
by Sophia C. Fergis
paternal aunt of George Chakiris
After a few days in Cincinnati, we moved to Norwood to live, as there were factories there where my parents could work. Norwood was in "Ripley's Believe It or Not" as being the only city in the world completely surrounded by another city, which was Cincinnati. It was more to my liking there, as it did not have the many tremendously tall buildings that overwhelmed me and to which I was unaccustomed.
The business section of Norwood was on Montgomery Avenue. The buildings were two or three stories high, with an occasional four story. The most busy part was only about three or four blocks long.
Our first place of abode was in an apartment house. One evening, Mother saw a young couple kissing in the hallway. Immediately she went to Father, "Aristotle, we must move out of here. This is a house of ill repute!" Father looked for another place and soon found a small cottage.
In America, my brother's names became Andy and Steve, from Anastasios and Stylianos, while mine remained Sophia, which in Greek means wisdom.
I did not remain a stranger very long, as less than two months after our arrival, Steve and I were enrolled in school.
Both my parents were working. Since they did not have knowledge of the English language, they were unqualified to register us in school. George, and American boy in our neighborhood who went to North Norwood Elementary School, the same school that Steve and I were to attend, took us there. He had written instructions given to him as to our names and ages.
When the school bell rang, George took my brother and me to the registration office. Steve, who was fourteen, was enrolled in the fourth grade, while I, at the age of seven, was enrolled in the first. Miss Eleanor Worthington was my teacher. She was in her late forties, tall, and rather plump.
The whole time that Miss Worthington had me in her class in the first grade, she frequently kept me after school to further my knowledge of the English language.
Her gentleness and joy in teaching me the language and adapting me to the ways of this country will always remain in my memory.
Being the only foreigner in school, I was a novelty, and I was given much attention. I, a most insignificant person, was made to feel welcome and important by the interest the principal, teachers, and pupils showed for me.
Steve had a beautiful voice and was a self-taught pupil on the mandolin, on which he played beautifully. His interest in the movies continued, and his consuming ambition was to be an actor. The antics of Charlie Chaplin intrigued him. During his late teens, he expressed his desire to our father to become a movie actor. Father thought such a profession was degrading and unthinkable, and Steve was not encouraged. It is my belief that Steve had talent. I'm sure he would have succeeded in getting into the movies, if he had taken lessons in voice and acting. Beside his beautiful voice, he was quite a comedian and had good looks.
I am happy to say for my brother's sake that many decades later, however, God granted my brother the culmination of his own wishes and dreams in his son, George Chakiris. George won the Academy Award in 1961 portraying the part of Bernardo in West Side Story. His career continued on stage, screen, and television.
At the age of seven, George introduced me to a visiting friend, saying, "This is my aunt." As an afterthought, and by way of clarification, he quickly added, "But not the kind that walks on the ground." At the same time, he pointed down to the ground.
Steve succeeded in getting employment in a Greek confectionary store in Norwood.
With the combined earning power of my parents, plus great economy, in 1917 Father put the down payment on a two-story, two-family frame house on Warren Avenue. My parents rented the second floor to a Jewish couple with three children.
The Norwood View Elementary School had just been completed in the vicinity of our home. Shortly thereafter, I and a group of other pupils were transferred to this new school from North Norwood School. By tremendous good fortune, my beloved Miss Worthington was also transferred to teach in this school.
Steve, was not transferred by remained in North Norwood School, as the new school was small and had grades only up through the fourth grade. After the fourth grade, I also returned to the North School.
Within a week or two of being in Norwood View, I became friends with gentle and sweet Rosella Midlam, who was in my classroom. She was the only child of Mr. and Mrs. Charles and Dora Midlam.
Father purchased a poolroom with five billiard table on Montgomery Avenue in Norwood in 1918. With his pleasing personality and courteous manner, he was successful in business.
Then I went to the Globe-Werneke factory by the basement window where Mother worked. There I unwrapped and gleefully showed her my cake.
In due time, Father sold our home…We moved to a small apartment over the poolroom. Five months after purchase of his poolroom in Norwood, Father purchased one for Andy in Cincinnati.
Father had purchased a shoe-shine and hat-cleaning store for Steve on Vine Street in Cincinnati.
Father had sold Andy's poolroom because of the band environment there. They bought a large restaurant to be managed by Andy, which also was in Cincinnati. Because of lack of knowledge on running a restaurant of that size, the waste of food by the chef, and the dishonestly of some of the employees, Father had to sell it at a loss. After the sale, Andy went to Miami, Florida, for a vacation. Upon his return from Miami, he was instrumental in us all moving there.
Upon Andy's return to Norwood, he brought a huge picture of "Grecian Garden," which was a confectionary store on Flagler Street in Miami. He was successful in convincing Father that it was a great buy for twenty thousand dollars. Just the business, not the building.
Father sold his poolroom in Norwood, and…we all went to Miami. Within a few months after purchase of Grecian Garden, wherein Father had put all his cash as a down payment, he walked out penniless. Because of the lack of business, he couldn't meet the huge payments of rent and the note that was due each month.
As there were no girls of Greek descent in Miami at that time, in 1922, Father went to Brusa to bring brides for Andy and Steve. Steve was furious with this plan.
The glorious day finally came when we went to the depot to meet the new arrivals. Upon their arrival in Miami, Father introduced the brides, "Andy, Anthe is your fiancee. Steve, Zoe is your fiancee.
After becoming acquainted, about two months after the arrival of Anthe and Zoe, my brothers were impatient to get married to the girls designated to them by their father.
Due to dishonest manipulations of others, in due time, Father went out of business. In 1925, broken-hearted and almost penniless, my parents went back to Norwood, Ohio, and Father went into the employ of others. Steve and Zoe joined them in Norwood soon thereafter with their baby, Demetrios.
Loveable and sweet Demeetrios died at the tender age of nine months, but over the years Steve and Zoe had Aristotle, Virginia, Catherine, Viola, George, Steve and Athena.
Soon upon my parent's return to Norwood, Father saw a brick building on the corner of Sherman and Allison Avenues, which consisted of a store on the corner. Connected to it was a two-story house. He expressed his deep desire to some of his friends of his wish to buy it.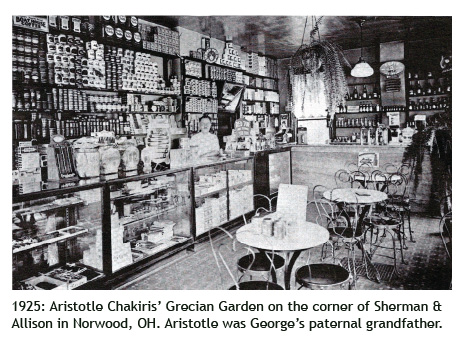 Immediately, Uncle Anastas and Aunt Sultanio, who at this time were living in Cincinnati, loaned Father all their saving. One or two other Greek friends helped in the down payment of the purchase price of the building.
Father furnished it as an ice cream parlor, delicatessen, and grocery store. He decorated it with lovely hanging ferns and potted plants, naming it Grecian Garden after the Grecian Garden purchased in Miami. However, in contrast to the Grecian Garden in Miami, this Grecian Garden in Norwood was a successful business venture.
During the summer [of 1936], my father had what was called a beer garden. It was outdoors adjacent to our home, with Father's store, Grecian Garden, being on the corner.
My father being a lover of beauty, and in memory of our homes in Turkey, had planted two cherry trees, two mulberry trees, plus an apricot and pear tree. He had abundant grapevines with aromatic, luscious grapes hanging overhead all the way down through the entrance and all along the fence surrounding the garden. The garden had profusion of beautiful flowers.
The beer garden had become so well known for its beauty that the mayor of Norwood came once. We served ice cream sodas and sundaes, malted milk, sandwiches, and draft beer. It was patronized mostly by families of the surrounding vicinity. At times, we had a three-piece band on Saturday nights.
After the closing of the beer garden for the season, we [Nick and Sophia] made plans for our marriage to take place in Miami, where we would live during the winter months. In September, Nick and I departed to Miami. Steve, along with my nephew George, and godchild, Viola, drove Nick and me to the depot.
My parents left the store in the care of Steve and they came to Miami a week later.
We had escaped from the rulers of darkness against injustice and oppression and in danger of our lives. My foundation and memories in the United States as a child were firmly built on love, care and friendship generously and graciously bestowed on me from the moment I entered the first grade in school at the age of seven in Norwood, Ohio.