THE COLLECTION
Visitors can "Come On-A Rosie's House" where her story comes to life through exhibits that include:
childhood photos from her years in Maysville, KY

starting out at WLW in Cincinnati

touring as "The Clooney Sisters" with Betty in the Tony Pastor's band

chart hits of the fifties like "Come On-My House," "Hey There," "This Ole House," and "Mambo Italiano"

movies co-starring Bob Hope, Guy Mitchell and Jose Ferrer
the largest collection of "White Christmas" memorabilia anywhere in the world

costumes worn by Bing, Bob, Vera, and Rosemary, as well as sketches by Edith Head and Bob Mackie for designs worn by Rosemary

friendships with legends like Bob, Bing, Tony, Dean & Frank

life as a wife and mother of five children, and numerous grandchildren

building materials from the demolition of her mansion at 1019 Roxbury Drive in Beverly Hills
exhibits dedicated to her nephew George Clooney's life in Augusta and his successful acting career
her Augusta bedroom as it was when she lived there
and much more
Help The Rosemary Clooney House add Rosemary and Dante's historic Thunderbird to the house's collection.
Dante was riding in this thunderbird when he stopped at a redlight at the corner of Canon Drive and Little Santa Monica and saw his "Rosella" for the first time in many years... and the rest is history.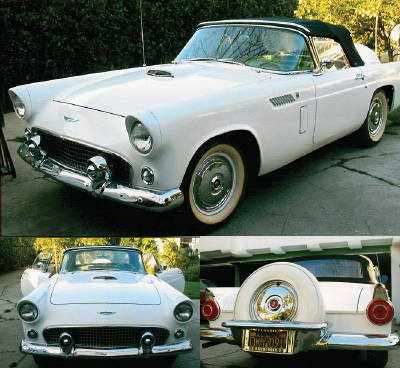 click here for more information about this car and how you can help
---
The Rosemary Clooney House is grateful to all of the individual and corporate sponsors who have made the acquisition of this extensive collection possible.