Includes their duets:
The Merry-Go-Run-Around;
Takes Two to Tango;
Chicago Style (two versions);
Open up Your Heart (with Bob Hope);
South Rampart Street Parade;
Something to Remember You By (three versions);
You're Just in Love (two versions);
It's Only a Paper Moon;
Easter Parade (two versions);
People Will Say We're in Love (two versions);
Only Forever;
That's Amore;
The Little Brown Jug;
Sweet Genevieve;
Shine on Harvest Moon (two versions);
Buckle Down Winsocki;
Indian Summer;
Man (Uh-Huh) and Woman (Uh-Huh);
Lily of Laguna;
Will You Still Be Mine;
We Just Couldn't Say Goodbye;
I May Be Wrong;
Would You Like to Take a Walk;
They Can't Take That Away from Me;
You'd Be So Nice to Come Home To;
Let's Call the Whole Thing Off;
Ain't We Got Fun;
Isn't This a Lovely Day;
Let's Put out the Lights and Go to Sleep;
They Say It's Wonderful;
Let's Take a Walk Around the Block;
Don't Worry (About Tomorrow);
Hey, Look Me Over;
Anything You Can Do;
What Takes My Fancy;
Summertime;
True Love;
Goodnight My Someone;
September Song/As Time Goes By/Till We Meet Again;
Singin' in the Rain;
It's Been a Long, Long Time/Life Is Just a Bowl of Cherries/Gimme a Little Kiss;
Moon over Miami/Meet Me Tonight in Dreamland/There's a Long, Long Trail;
Any Town Is Paris When You're Young/Paris in the Spring/April in Paris/The Last Time I Saw Paris;
These Foolish Things Remind Me of You/We Just Couldn't Say Goodbye/You'd Be So Nice to Come Home To (complete with flub and pickup take and versions of all three songs by themselves);
a rare promo record for Eastern Products;
and, a couple of Ford jingles
Only Two Solo Tracks:
Rosie's You're in Kentucky Sure as You're Born, and
Bing's This Ole House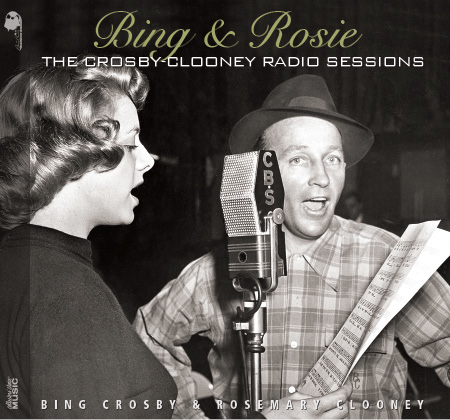 This two-CD set presents 59 unreleased tracks taken from their radio sessions (The Bing Crosby Show for General Electric, The Ford Road Show and the Crosby - Clooney Show), complete with some charming studio chatter and fidelity that rivals their commercial recordings.
From Martin McQuade's Liner Notes:
"How about a dame called Rosemary Clooney? Sings a good song – and is purportedly personable." Thus Bing Crosby started a letter dated August 20, 1951, which he sent to an executive at Paramount Pictures concerning the selection of the leading lady for his highly anticipated film, White Christmas. With this recommendation, Bing set in motion one of the most enduring professional relationships he would ever have.
For more information about additional releases from the Bing Crosby Archive, visit Bing's official website at www.bingcrosby.com